Skip to Main Content
Skip to Footer
News and Events
Latest News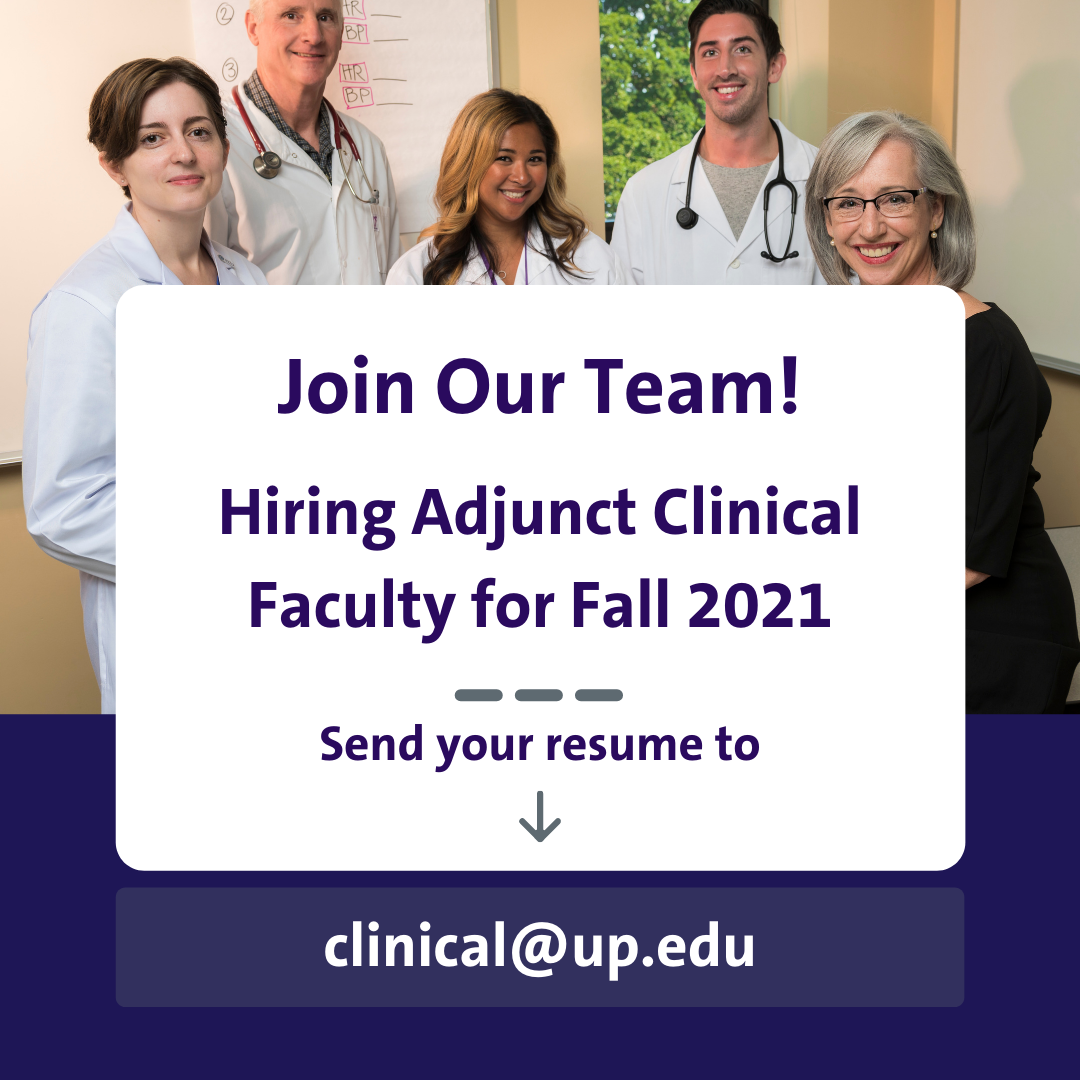 Hiring Clinical Adjunct Faculty for Fall 2021
The University of Portland invites applications for the position of Adjunct Clinical Faculty in the School of Nursing for Fall term 2021. We are looking for one or two day a week commitments from August 23 to December 3, 2021. Applications will be accepted until the positions have been filled.
There are various openings which include Population Health Clinical (Tuesday or Thursday) and Chronic Illness Management Clinical (Monday, Wednesday, or Friday). While teaching experience is preferred but not required, you must have a minimum of two years of successful clinical nursing practice to apply. For the full job description, please visit this link! To apply, please forward a copy of your resume and your availability to clinical@up.edu.
Nursing Student is Awarded Nursing Corps Association Scholarship
We are proud to announce Sarah Ignacio as a recipient of an Army Nurse Corps Association Scholarship. She was selected from a large group of outstanding applicants by the Army Nurse Corps Association. Congratulations Sarah!
UP Student Nurses Get Real World Experience Administering COVID Vaccines
University of Portland's student nurses live for their clinical rotations, when they finally get the chance to take what they've learned and practiced at school and apply it to real world situations. But, due to COVID, a group of juniors poised to work pediatric and ob-gyn rotations in a local hospital this spring found their internships canceled. But UP's nursing program is nothing if not resourceful, and the students were quickly set up with a new opportunity to get experience with live patients while doing something to actively fight the nemesis that thwarted their plans: administering COVID-19 vaccines at the Oregon Convention Center.
The students say working with a steady onslaught of different people gave them an incredibly valuable learning experience in patient care.
School of Nursing to assist Kaiser Permanente Medical Centers with COVID-19 vaccine distribution
As Oregon welcomes long-awaited vaccines to combat the COVID-19 pandemic, the University of Portland School of Nursing (UPSON) is stepping up to assist with vaccination of priority recipients at Kaiser Permanente medical centers. 
When the spring term begins on the UP campus in late January, 30-40 students from UPSON will join the vaccination effort to increase the distribution of the vaccines locally. The students, juniors and seniors in the nursing program, will receive additional training as part of their clinical curriculum to prepare them for the vaccination responsibilities.
Travel nurse works with COVID-19 patients
Within the busting halls of a Los Angeles hospital, a popular Beatles song plays over the intercom. The uplifting melody has become an anthem of hope for School of Nursing alum Bailey Saleumvong '08.
After years of experience in neuroscience, emergency, cardiac, and ICU units, Bailey decided to become a travel nurse. With this job, Bailey gets the opportunity to live and work in different cities and hospitals around the country, but chooses to take jobs primarily in California and Washington. 
When nurses speak, we listen: On ethical leadership
In April, Jennifer Graves '87, '92 MSN, the regional nursing executive of Kaiser Permanente Washington, was asked to staff a new COVID-19 assessment and recovery facility with around-the-clock coverage for those in the King County, WA, area experiencing homelessness.
She didn't hesitate. In mere weeks she had the staff and processes in place.
A creative thinker, a listener, a leader, a proud mom, and a lover of the game of basketball, Graves believes her University of Portland education prepared her for the challenge of the moment.
Cathryn Casey '19 shares about her Jesuit Volunteer Corps experience in rural Bethel, Alaska
Upon Cathryn Casey's graduation in May 2019, she joined the Jesuit Volunteer Corps Northwest (JVCNW) as a wellness coordinator in rural Bethel, Alaska for a year of service. 
The city of Bethel has a population of about 6,000 people and can only be accessed through plane or boat. Bethel is on the Kuskokwim River and is home to the Yup'ik people - the traditional stewards of the land.
 Cathryn provided wellness activities, tutoring, and mentoring to students at the University of Alaska Fairbanks Kuskokwim Campus. 
