Strategic Plan
Annual progress update August 2019
1. Regional and national leader in undergraduate education
A. RN to BSN
Developed program
Market conditions did not support launch
B. BSN Curriculum revision
Summer 2019: completion of writing for all 100- and 200-level courses
Fall 2019:

Continue course writing for 300-level courses
Contract with Instructional Designer consultant to standardize Moodle Common Course format
Community Engagement for clinical sites
Fill all faculty positions by the end of fall semester
Link new curriculum to Master Evaluation Plan

Fall 2020: all course writing will be complete
Spring 2021: all new courses will be delivered
C. Integrative Health & Wellness Studies
Launch new major and minor Fall 2019
Confirm course-writing map for all IHW courses
Summer 2019: completing all course writing for 100- and 200-level IHW courses
2. Regional and national leader in graduate education
A. Develop new Masters program with concentrations
Partnership with School of Education to explore master's degree options
B. Develop DNP Leadership track
Continue to explore options and market demand
C. Explore DNP - Gerontology and Palliative Care
Continue to explore options and market demand
D. DEU for NP practice sites
Transition focus to delivering a distance option for DNP program
E. OSCE - faculty ready for development
Hire consultant to develop implementation plan for OSCE
By end of AY 19-20, create 2 new OSCEs
F. ADN graduate pathways
Strengthen current community college relationships
3. Infrastructure to support growth and excellence in teaching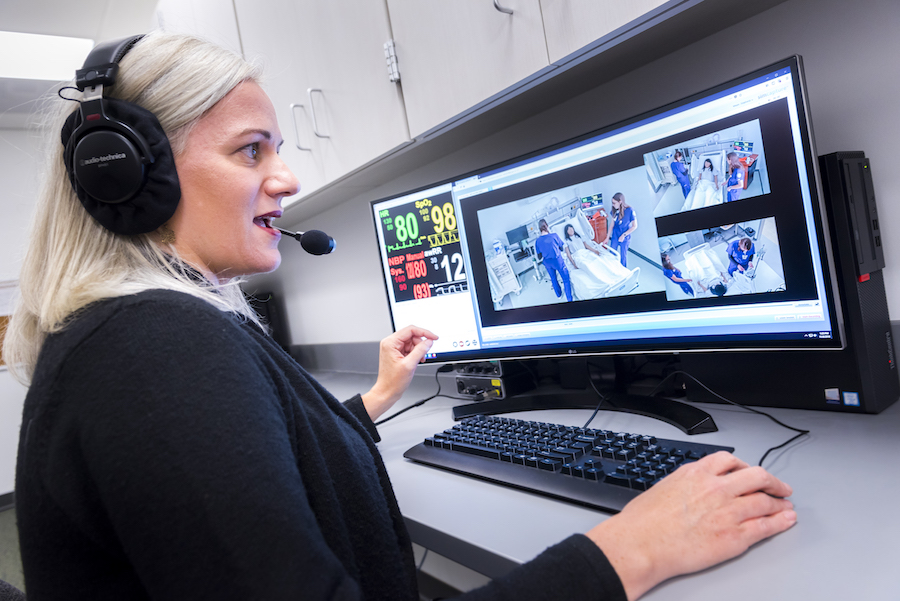 A. Invest in online education support
Goal met - implementation ULC, Kaltura, etc.
AY 18-19 implemented ExamSoft for all SON courses
AY 19-20 SHC remodel compete and simulations being developed for new BSN curriculum
Determined best practices - "hybrid-ready formatting" for Moodle AY 19-20

a. Audit completed (exam 50% and Moodle common format)
b. Feedback sessions to faculty
c. Repeat exam audit
Goal for AY 19-20 is to attain 35% of faculty using Moodle "hybrid-ready"
B. Standardized orientation
All courses now team-taught
Moodle common course being drafted with NRS 307 FA19 and implemented for all courses SP20
All course writing teams using standardized examination format through ExamSoft
New faculty residency evaluation and transition into the Teaching & Learning committee moving forward AY 20-21
C. Faculty Development: Teaching & Learning committee
Focus on team teaching implementation
Support for all faculty to adopt ULC for new curriculum (15 faculty currently trained)
Work with One the Bluff Studios & digital media to build flipped classroom skills and resources
4. Create global and multicultural opportunities
A. Increase student diversity
Revised peer tutor programming
Advising model revised to decrease total number of faculty-to-student advisees
Monitoring evaluation of Buddy-UP outcomes
B. Increase faculty diversity
Search & Screen committee will use university-wide recruitment and interview model for increasing diversity
C. Develop relationships with underserved area partners
First annual nurse camp
Tapping into high school relationships within our communities
Community Engagement Team established AY 18-19, continuing into AY 19-20
Established International Education Diversity & Inclusion Committee
D. Grants management plan
Appointed new position Research & Scholarship Director, created template language for grant proposals

Leveraging relationships with university grant writers
5. Catholic character
A. Threads in curriculum to develop moral character
BSN curriculum revision includes all threads and is on track for implementation
B. Service
Service embedded in faculty, staff and student participation
C. Interprofessional opportunities with faith teaching
Service learning opportunities with CISGO and Moreau Center for Service Learning
D. Nursing-focus theology
E. Nursing electives to explore
Explore a palliative care elective/minor/etc. (tie together with the DNP palliative care track)
Original Strategic Plan 
1. Regional and national leader in undergraduate education
A. RN to BSN
Complete RN to BSN summer 2016
RN to BSN curriculum to CAR fall 2016
Implement RN to BSN summer 2017
B. BSN Curriculum revision
Complete BSN curriculum revision 2016 - 2017
New BSN curriculum to CAR fall 2017
Implement new BSN curriculum fall 2018
C. New major Population & Integrative Health
Develop program of study and curriculum 2016 - 2017
CAR fall 2017
Implement new major fall 2018
2. Regional and national leader in graduate education
A. Develop new Masters program with concentrations summer 2016
Develop new Masters program with concentrations summer 2016
Education
Leadership
To CAR fall 2016
Implement new Masters summer 2017
B. Develop DNP Leadership option
Hire consultants/program fall 2016
To CAR spring 2017
Implement summer 2017 or fall 2017
C. Explore DNP - Gerontology and Palliative Care 2018
D. DEU for NP practice sites
Kaiser
PeaceHealth
Providence
Legacy
E. OSCE - development of more simulation & OSCE into the program of study
F. ADN graduate pathways
3. Infrastructure to support growth and excellence in teaching 
A. Invest in online education support 2016-2017
Technology support for excellence in online instruction

Online presentation of didactic content

Podcasts, media, web-ex tools

Support for technology use in student projects
No minimum to file sizes

Explore options for online examinations
Simulation
Flipped classroom
B. Standardized orientation for faculty (full-time and adjunct)
Co-teaching first course
Standardized Moodle pages
Standardized tools/rubrics for grading
C. Faculty Development
Equal focus on graduate and undergraduate faculty
Can have "tacks" for topics

Item Analysis
Pedagogy
How to give feedback
How to grade
Online teaching
Technology and innovation in teaching

Demonstrate faculty preparedness for online teaching
All faculty have access to an iPad/Surface Pro

Orientation on how to use these tools effectively
4. Create global and multicultural opportunities
A. Increase student diversity
Improve access to tutors and support systems for underserved, 1st gen, etc.
B. Increase faculty diversity
C. Develop relationships with underserved area partners
NuTram pilot project at Samuel Merrit this summer
CNA programs at local high school areas
Develop repository for community-based partnerships


Clinical placements and opportunities
Grant opportunities 
Underserved population partnerships
D. Grants management plan
Able to quickly put applications together
Management and tracking of grants received
Explore availability of grants
5. Catholic character
A. Threads in curriculum to develop moral character
Social Justice 
Leadership 
Ethics
Population health/ecological model
Inquiry
B. Service
C. Interprofessional opportunities with faith teaching
D. Nursing-focus theology
E. Nursing electives to explore
Religiosity and health
Palliative care
Death with dignity
Ethical issues with religion and health