School of Nursing
Welcome to the University of Portland School of Nursing! We are a strong community dedicated to educating nurses and healthcare professionals who empower patients, families, and communities to embrace healthy living and strive for wellness. Graduates of our programs become innovative, transformational leaders, who embody academic excellence and integrity. We believe that all nurses are healers, advocates, and healthcare leaders who believe that social justice lies at the head, heart, and hands of all that we do.
Inspiring leaders of the future.
Preceptor Spotlight
Meg Portwood is one of our amazing preceptors and a leader in nurse practitioner independent practice in Oregon. Many of the "firsts" in NP practice have been accomplished by Meg. She was the first "nurse clinician" at Madigan Army Medical Center in 1974. She was one of the first NP's to be licensed in Oregon and to receive prescribing privileges.
Meg has been recognized by the American Association of Nurse Practitioners (AANP) as nurse practitioner of the year several times and she received the State Award for Excellence in 2015. She is a preceptor for many NP students from UP, OHSU, Gonzaga and many other schools. She is a University of Portland graduate with a BSN in 1973, and a MS, FNP from University of Washington in 1974. We are proud that Meg has stood for nurse practitioner practice in Oregon and has mentored so many nurse practitioner students.
The SON launched a new DEU at Legacy Salmon Creek Medical Center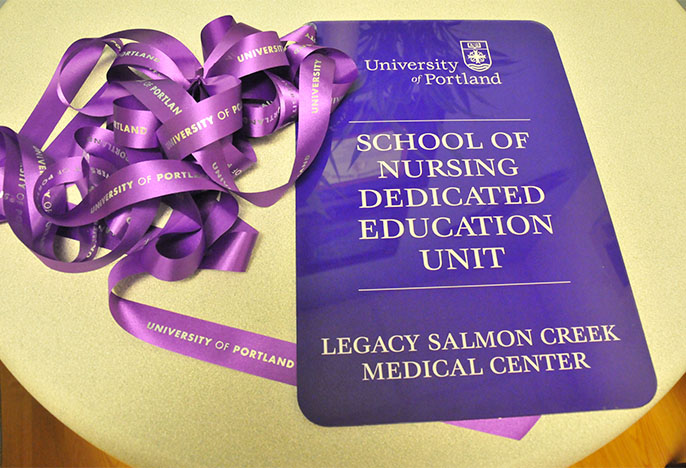 Nurses at Legacy Salmon Creek Medical Center in partnership with the University of Portland have launched a new nurse training program; a first in Washington State and in Legacy Health. The University of Portland developed the DEU (Dedicated Education Unit) as a new model for teaching nursing students in clinical rotations.
"It's a remarkable way we can use the strengths of both organizations, bringing together the strong academic expertise of the university in partnership with the clinical expertise of Legacy's nurses," said Casey Shillam, Associate Dean for Baccalaureate Education at UP's School of Nursing.
In the DEU model, university faculty train the nurses to be instructors. The nurses are then matched with students on a one-to-one ratio. University faculty are on site to oversee the academic program. 
Dr. Pamela Potter interviewed by the National Catholic Reporter
Dr. Pamela Potter was interviewed by Heidi Schlumpf for the "Breathe in, breathe out" article published by the National Catholic Reporter. In this article, Dr. Potter states the importance of contemplative practices in the classroom that help alleviate stress and increase learning. Potter uses yoga stretches, brief meditations, and mindfulness exercises to help nursing students take care of themselves. "Students need this kind of support. We want them to feel good and successful, not stressed and successful," said Pamela Potter.