School of Nursing
Welcome to the University of Portland School of Nursing! We are a strong community dedicated to educating nurses and healthcare professionals who empower patients, families, and communities to embrace healthy living and strive for wellness. Graduates of our programs become innovative, transformational leaders, who embody academic excellence and integrity. We believe that all nurses are healers, advocates, and healthcare leaders who believe that social justice lies at the head, heart, and hands of all that we do.
Inspiring leaders of the future.
Congratulations Dr. September Nelson
Congratulations to Dr. September Nelson on completing her doctoral studies at the University of Colorado, 9/1/17. Dr. Nelson's dissertation focused on "Relationships among workload, teamwork and Missed Care in the Nursing Home Environment.
Dr. Nelson began her nursing career in 2008 after graduating from UPSON with a Clinical Nurse Leader Master's. She worked at Providence Portland prior to joining the faculty at UPSON in 2010.
Dr. Braband receives Innovative Teaching Award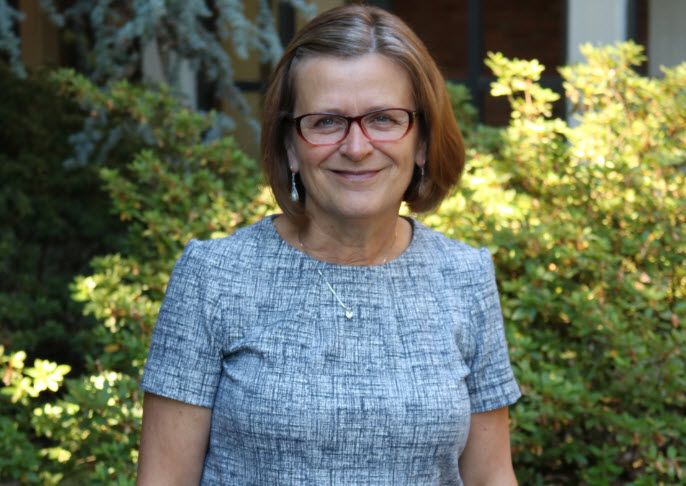 Barbara Braband, Rebecca Gaudino (theology), and Anissa Rogers (social work) are the recipients of the 2017 Innovative Teaching in Social Work Education Award, a national teaching award given jointly by the Council on Social Work Education (CSWE) and SAGE Publishers. The three professors have been participating in interdisciplinary collaboration for the last several years on pedagogical methods and research, and we submitted this work for the award.
The award will be presented at the Annual Program Awards Luncheon for CSWE on October 22, 2017 at the Annual Program Meeting of The Council of Social Work Education, in Dallas, TX. Based on the award, they will present a workshop, "Using an Interview Project to Develop Students' Skills in Working with Grief," as part of the Teaching and Learning Styles Track. A paper on our project was accepted for presentation prior to notification of the award and the manuscript was submitted for publication.
Dean Joane Moceri named 2017 University of Washington Tacoma Outstanding Alumna
University of Portland School of Nursing dean Joane Moceri was named as the 2017 Outstanding Alumna of the University of Washington Tacoma's Nursing & Healthcare Leadership Program in June. Moceri is a former UW Tacoma faculty member and received her master of nursing degree from the school.
Moceri received her award at University of Washington Tacoma's Master of Nursing hooding ceremony. In presenting the award, director of Nursing & Healthcare Leadership Sharon Gavin Fought cited Moceri's "leadership, wisdom, and tremendous capacity to work with and on behalf of others."