Faculty Spotlights
Larizza Limjuco Woodruff
Assistant to the Dean for Clinical Teaching Excellence
I'm a Portland native and a proud UPSON alum! I am a Med-Surg nurse by background, having worked in fantastic hospitals in Central Oregon and San Diego prior to coming back to UP as faculty. I love to spend time with my husband, son, and bonus-daughter. I also enjoy traveling, eating delicious food - especially donuts, rooting for the Blazers win or lose, and anything gold!
Why did you decide to become a nurse?
Well, I'm Filipino so I'm supposed to be a nurse, right? ;) No, in all seriousness – I actually tried to branch out of that stereotype. I have many family members that are nurses (history here) and so badly didn't want to just be another nurse to add to the family. I tried to dabble into ideas of other healthcare professions such as Pharmacy, but I couldn't deny that I just care too damn much about people! I found that my purpose was to find ways to connect with someone to help them in their health trajectory…. Getting to that deeper level (no, not deeper level of pathophys- but that is fun too!) of connecting with a patient and providing them with compassionate care is what drove me to be a nurse.
What drew you to become an instructor/current position?
I realized that my passion within nursing is education! What I loved about nursing at the bedside was educating patients… please give me that really hard non-compliant diabetic to teach! I enjoyed seeing progress and success when patients made choices to benefit their health. When I first transitioned into Nursing Education, I began teaching my peers in the hospital as well as teaching as an adjunct for UP. It wasn't long when I realized that teaching nursing students is SO refreshing! Students are (generally) excited to learn about nursing and I believe I found my passion in nursing by growing future nurses!
What is one of your greatest accomplishments? 
My greatest achievement/honor is to be Logan's Mom. I can't say I've "accomplished" it because I'm totally new to it and let's be real, mommin' ain't easy!
What is a fun fact about yourself?
I love wakeboarding & wake surfing – but I don't know how to swim and I fear being underwater. Silly, I know.
What you'd like students to know: tips and advice.
You will be a stellar nurse regardless if you get one of your top choices for capstone or not! In fact, even if you don't get your "dream job" right out of school, you WILL be a stellar nurse no matter what and you will get to your dream job… and if you don't it's because you found something else in nursing that you love instead. That's the beauty of Nursing!
Sally Rothacker-Peyton
Instructor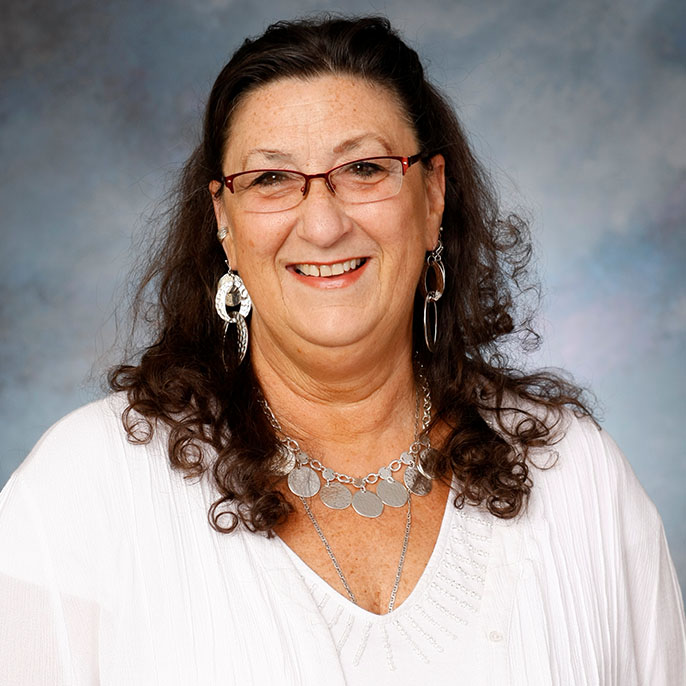 I grew up in the Midwest but have lived in many places. I graduated from Case Western Reserve University in Ohio with my BSN. I then had my initial experience in the University Hospital: Cleveland Medical Center in psychiatric nursing (I have been in this field of nursing now for about 40 years).  I later attended the University of Hawaii at Manoa and got my masters degree and am currently working on my doctorate which I will have by 2019's commencement ceremony. 
Why did you decide to become a nurse?
I have always wanted to be a nurse. From the time I was very little, my mother would always tell me I wanted to be a nurse. I also like the flexibility of nursing.
What drew you to become an instructor?
I believe that psychiatric nursing is teaching. I taught for 5 years while in my 20's and really enjoyed it and then returned to mental health nursing after that. I want to pass on my passion for mental health even if that just means taking care of the emotional needs of our patients outside a psychiatric setting. I also believe that it is time to start passing the passion on for psychiatric nursing and that if you do a good job teaching, your students will surpass you. I am also concerned about nursing and the stress associated with it, which is why I try to teach how to cope and respectfully take care of ourselves so we can maintain our careers.
What is one of your greatest accomplishments?
Whenever people come back and share their life/career successes. I feel privileged and honored to have had a positive impact in their lives.
What is a fun fact about yourself?
I love to travel. I have traveled to a lot of fun places. My top spots are Norway, walking to the top of the Eiffel Tower with 5 teenagers, and Hawaii (which I consider it to be my home).  I also love to cook, hike, and garden.
What you'd like students to know: tips and advice
Don't be defined by what others think you should do in your career. Take the things you are passionate about and make them the focus of your career. If you feel like you've offered what you can offer, it's okay to move on.
Any other information you would like to share?
It's really important to have balance and know that life is more than just our jobs. 
Dr. Kaye Wilson-Anderson
Associate Professor
I have been teaching at University of Portland since 2007. I have my Doctorate and Masters in nursing education and have traveled to over 15 different countries for research, to provide nursing care, mentor nursing students and nurse educators. My most recent work has taken me to China, where I helped students and faculty in their use of mannequins for simulations. 
Why did you decide to become a nurse?
I have a strong Christian faith, which is what drew me to nursing and what pushed me to further my education. I felt like God was directing me to nursing as His plan for myself.
What drew you to become an instructor/current position?
Despite the fact that I wasn't fond of school, I was inspired to go back and pursue nursing education. I have found a lot of joy and meaning from being a professor and caring for clients. I feel like I have the best of both worlds. 
What is a fun fact about yourself?
I didn't get married until the age of 47. But, when God delivered HE delivered! My mother told me that I wouldn't have been able to do all the things I had done if I had married when I was younger. 
What you'd like students to know: tips and advice
Nursing is the key to so many different venues. It grows with you, and the more you know, the more you can do with it. I advise future nurses to do something they're passionate about. If you're not passionate, you'll burn out. I believe in the importance of being good to yourself. Self care is crucial, especially when you give so much to others. Over the years, I've learned that everyone should say 'no' to about half the things you're asked to do.